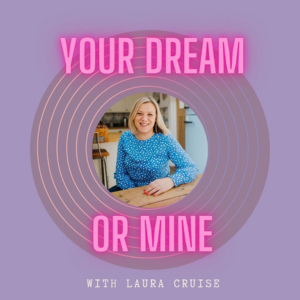 This week I want to talk to you about taking up space.

Do you know what I mean by that?

I mean not hiding away, not apologising for existing, not feeling worthy.

You are worthy, you matter, you are important, you have space that is meant for you so make sure you use it!

Have you taken my dreamer quiz yet? Find out what type of dreamer you are by clicking here.

To find out how I can help you to create the dream life and business you have always wanted, check out my website.

See you next time my fellow dreamer!
When you've listened to the episode, please subscribe and leave a five star review, then go and find my guest on Instagram!

Want to work with me? Here's how:

- Follow me on Instagram

- Order my book

- Attend The Dream Life Business Club

- Book a strategy day

- Join The Dream Life Academy

- Work with me one to one

That's it! Now let's get started.

See you next time my fellow dreamer....