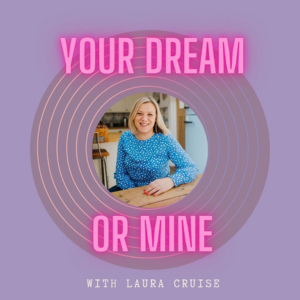 Today I interview Josie Lloyd, author of 23 books, who is a gorgeous human being with a great story to tell.

Josie's writing career took off because she started saying yes to things, she opened herself up to opportunities, and she stayed committed to her dreams.

Her story is so empowering and uplifting, I just know you will love this episode. You can find more about Josie here.

When you've had a listen, please leave a review and subscribe, this will help other listeners to find the podcast.

If you are ready to start saying yes then come and join The Dream Life Academy this weekend, it is the best place for you to start your own dream life journey. Click here to read more.

See you next time my fellow dreamer...
When you've listened to the episode, please subscribe and leave a five star review, then go and find my guest on Instagram!

Want to work with me? Here's how:

- Follow me on Instagram

- Order my book

- Attend The Dream Life Business Club

- Book a strategy day

- Join The Dream Life Academy

- Work with me one to one

That's it! Now let's get started.

See you next time my fellow dreamer....