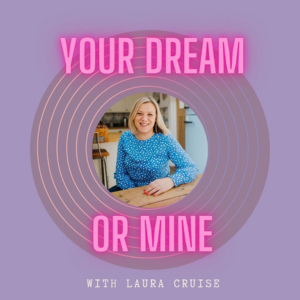 Do you notice things about yourself?

What I mean by that is do you notice how you react, how you feel and what you think in response to a conversation, a situation or an action?

Noticing things about yourself is the key to greater self-awareness, increased confidence and deeper self-reflection. It's powerful stuff!

If you'd like some help with noticing things about yourself, join me for one of my Mindset & More one day sessions at my house in Ampthill. Read more and book on here.

If you enjoyed this episode, please leave a review and subscribe, this helps other listeners to find the podcast more easily.

See you next time my fellow dreamer....
When you've listened to the episode, please subscribe and leave a five star review, then go and find my guest on Instagram!

Want to work with me? Here's how:

- Follow me on Instagram

- Order my book

- Attend The Dream Life Business Club

- Book a strategy day

- Join The Dream Life Academy

- Work with me one to one

That's it! Now let's get started.

See you next time my fellow dreamer....