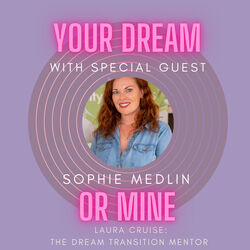 This week I interview Sophie Medlin: Consultant Dietician, TV star, entrepreneur and gorgeous human being.

I first saw Sophie on the Channel 4 show, Know your s**t, earlier this year. I reached out to her on Instagram to ask some questions about gut health and then I had a couple of appointments with her. I can vouch for her being as wonderful in real life as she is on the telly!

We talk gut health, the magic of helping to change people's lives, and how growing your business is brilliant, but must stay true to the very heart of what you do.

When you've had a listen please do leave a review and subscribe, this helps more listeners to find the podcast more easily. A share on your socials would be great too!

Do come and check me out on Instagram too, this week I have some amazing Business Birthday offers which I know you will want to check out!

See you next time my fellow dreamer....

When you've listened to the episode, please subscribe and leave a five star review, then go and find my guest on Instagram!

Want to work with me? Here's how:

- Follow me on Instagram

- Order my book

- Attend The Dream Life Business Club

- Book a strategy day

- Join The Dream Life Academy

- Work with me one to one

That's it! Now let's get started.

See you next time my fellow dreamer....